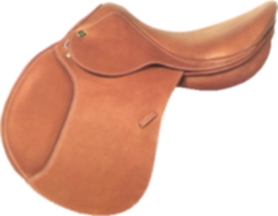 Prestige Hunter Classic Jumping Saddle WE SELL EVERY PRESTIGE MODEL -JUST CALL US 203-246-8013
Be the first one to write a review
La Selleria Italiana an elegant hunt saddle specially crafted for the hunt seat eqitation rider in Prestige's exclusive "Natur" double-stratum leather. It offers a more forward balanced seat and a classic look. Available in a regular flap or 2 cm or 4 cm more forward flap as well as our range or short and long designs.
CALL FOR LOWEST AUTHORIZED PRICE 1-203-246-8013 Prestige prices just changed and we are updating the computer system. As always we will give you the lowest price the factory authorizes. We should have the website updated in a few weeks. Right now, when you call we will include a free Prestige brown bridle and standing martingale or Pegasus black saddle fitter pad with every saddle order!
Due to the current changes in the Euro, prices for Prestige saddles will be quoted when ordered. We will always bring you the lowest authorized price! Call us at 203-557-3285 to check stock and price.